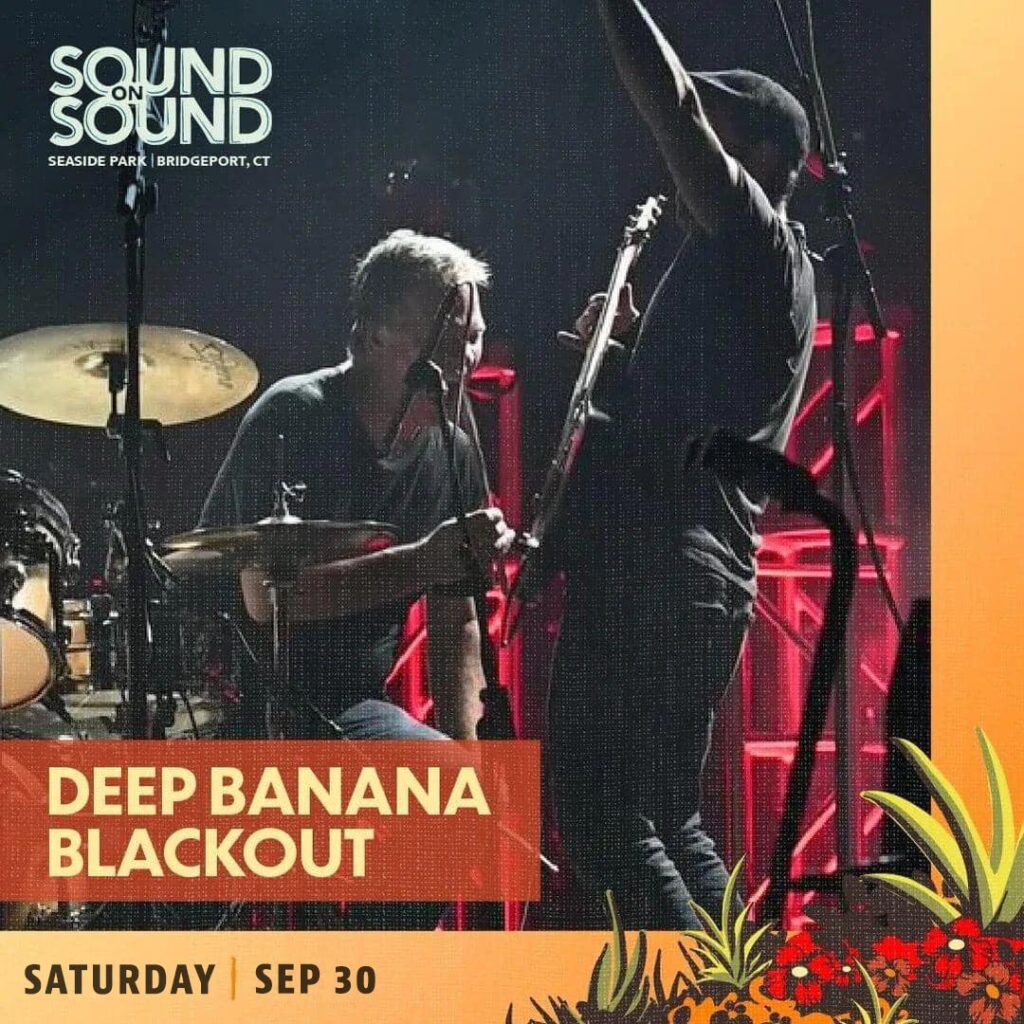 SOUND ON SOUND
Deep Banana Blackout
Saturday, September 30th

Seaside Park
Bridgeport, CT

TICKETS
Excited to announce that we will be gettin' the band back together for Sound on Sound Fest in Bridgeport, CT on Sep 30 along with Red Hot Chili Peppers, John Mayer, Alanis Morissette, Trey Anastasio, Ben Harper, Steel Pulse, Dispatch and many more!
---
---
Upcoming Shows
Date
City
Venue
09/30/23
Bridgeport, CT
Seaside Park
Time: 2:00pm. Age restrictions: All Ages. Buy Tickets
Past Shows
Date
City
Venue
11/23/22
Fairfield, CT
The Warehouse at FTC
Time: 8:00pm.
11/24/21
Fairfield, CT
The Warehouse at FTC
08/08/21
Port Chester, NY
Garcia's at The Cap
08/07/21
Port Chester, NY
Garcia's at The Cap
08/06/21
Port Chester, NY
Garcia's at The Cap
11/27/19
Fairfield, CT
The Warehouse at FTC
04/06/19
Port Chester, NY
The Capitol Theatre
11/22/17
New Haven, CT
Toad's Place
09/03/17
Westport, CT
Levitt Pavillion
06/17/17
Cambridge, MA
The Sinclair
06/16/17
Fairfield, CT
The Warehouse at FTC
03/31/17
Port Chester, NY
The Capitol Theatre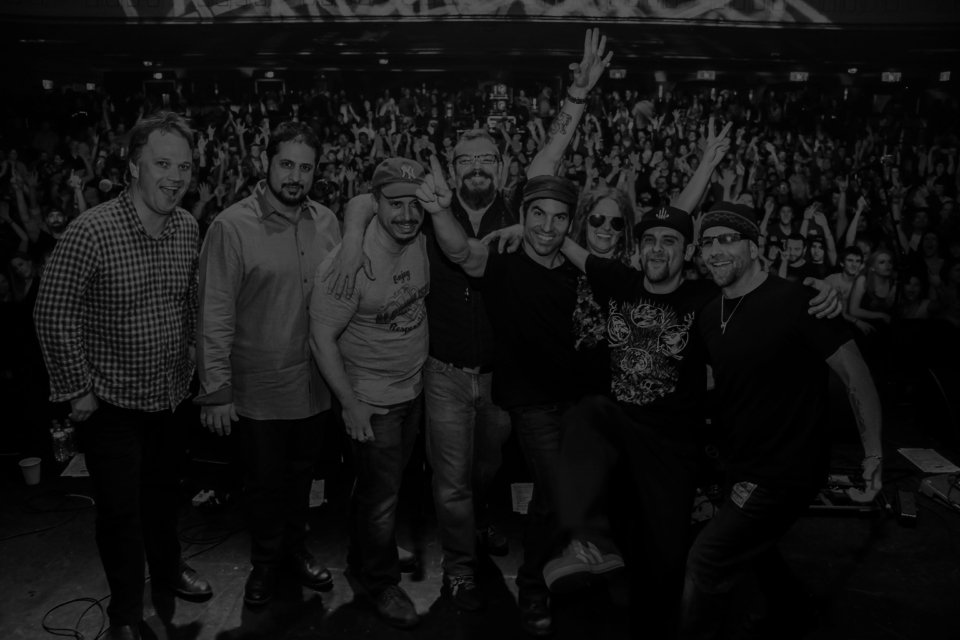 BIOGRAPHY
Deep Banana Blackout formed in the summer of 1995 when a group of like minded musicians hailing from New York and Connecticut joined forces to play Soul and R&B covers from the 60's and 70's for the pure love of that music. As the band members chemistry became apparent, all other projects fell to the wayside so that they could focus on writing and arranging original material. The band soon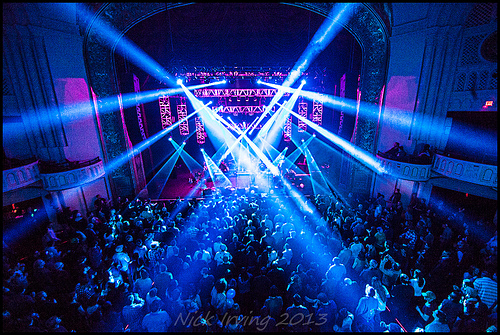 became a highly acclaimed musical force on the East Coast underground live music scene. This eight piece musical outfit, with full horn section and soulful groove embedded in the roots of funk, is notorious for weaving their own compositions involving extended improvisation with songs by Sly and the Family Stone,  James Brown, Stevie Wonder, and Parliament/Funkadelic.
In July of 1997, DBB released their first studio effort entitled Live in the Thousand Islands. The album was recorded in Hartford, CT in the old Colt.45 building and was produced by the band members themselves. In February 1999, Deep Banana Blackout released their second recording, a double live CD called Rowdy Duty. The album was recorded in one night at 7 Willow St., a now defunct club in Port Chester, New York. Later on that year, the band's label Artkin Touchya Records released B'Gock!, a side project for DBB's guitarist Fuzz and his band On The Corner.
Also in 1999 drummer Eric Kalb and percussionist Johnny Durkin went into Avatar Studios in NYC to record on jazz guitar legend John Scofield's Verve Records release entitled Bump. The album was featured on the Billboard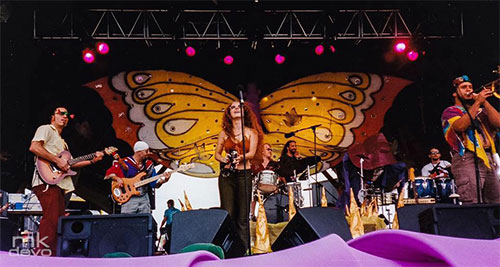 Jazz charts and pay homage to DBB through the track 'Blackout' which features a rhythmic refrain imitative of an audience chant typical at DBB's live shows preceding the encore.Deep Banana Blackout has sold out such venues as Irving Plaza in New York City, the Webster Theater in Hartford, Connecticut and Toads Place in New Haven, CT multiple times. They were featured at the Newport Jazz Festival in the summer of 2000, as well as being the focal point of a feature article in JazzTimes. In 2001, DBB played a co-bill with Maceo Parker in the new Denver Fillmore to 2750 fans, was featured at events such as Jazz Aspen/Snowmass, and the Gathering of the Vibes and toured with the Allman Brothers Band with several DBB members joining the legendary group for their set. The band has also performed in Tokyo, Japan twice.
DBB released 2001's Feel the Peel on Flying Frog Records, the label founded by Allman Brothers drummer Butch Trucks.
Over the course of the bands 20 year history many notable musicians from the Funk, Rock and Jazz world have joined DBB on stage. The list includes legendary musicians such as bassist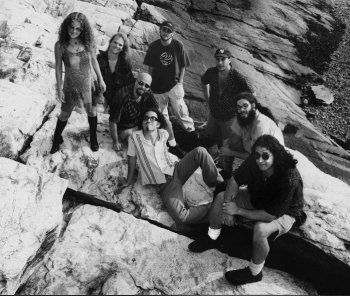 George Porter Jr (The Meters), trombonist Fred Wesley (James Brown/P Funk), keyboardist Bernie Worrell (P Funk), drummer Clyde Stubblefield (James Brown), guitarist Warren Haynes (Allman Brothers Band/Govt. Mule), John Scofield (Miles Davis), trumpeter Michael Ray (Kool and  The Gang/Sun Ra), drummer Mike Clark (Herbie Hancocks Headhunters) as well as drummer Chris Franz and bassist Tina Weymouth of Talking Heads/Tom Tom Club to name a few. A true highlight for the band was opening for James Brown at The Gathering of the Vibes Festival in 2003.
Deep Banana Blackout continues to perform to a devoted following, selling out clubs across the the land and shows no sign of stopping.